Joe Kowatch & Jim Powers, Club Pros
Joe has been a PGA member for over 30 years. Through the years, he has built an extensive international and domestic teaching portfolio, giving over 35,000 lessons and clinics to all levels of players. Joe can convey golf's intricate and sometimes complex concepts to students in an easy, effective way, and has the uncanny ability to pinpoint the missing link in each players' game  without drastically changing one's natural swing.
Jim has also been a PGA member for over 30 years, and has worked exclusively as a teaching Pro for the past 24 years. Jim focuses on the correct grip and setup position, which is paramount to hitting the ball correctly, as well as other aspects of the swing. Jim has built successful youth golf programs as well as working with beginner adults and seasoned duffers. He was listed as one of the top ten best teachers in NE Florida for 2020!
---
Become the player you've always wanted to be…
Contact Joe at 386-275-0886 or Jim at 302-542-7845 to schedule an analysis of your game. Or contact the clubhouse at 386-437-5807 to ask to be referred for a lesson.
Group Clinics…
Not sure individual lessons are for you? Try our Group Clinics! Every Wednesday at 3:30 pm, with a minimum of 3 and maximum of 6 students per instructor, you can get a feel for where your weaknesses are and if private lessons might be for you. Each session is $25; sign-up by Tuesday noon each week by calling (386) 437-5807.
Golf School…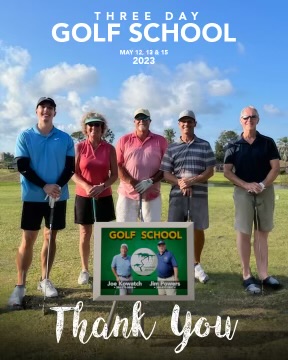 A more intensive, immersive multi-day experience… our golf school will really up your game. Comments from some of the students:
"Today was awesome! I feel like I've been rode hard and put away wet, but I learned so much!"
"I really had fun today, never got stressed, and I was very pleased with my progress."
"I've tolerated it for the last 45 years, but now I can't wait to get out there and practice and play, for real, and actually know what I'm doing, and what I'm doing wrong!"
"Thank you so much from the bottom of my heart! I really love this game and it's all because of you!"
Contact Jim or Joe to find out when the next Golf School will be held!